Remedial Massage Therapist Position at
Tamworth Remedial Massage Centre
Are you a passionate Remedial Massage Therapist seeking a rewarding career opportunity in Tamworth, NSW, Australia? Look no further! Join our vibrant team at Tamworth Remedial Massage Centre (TRMC) and become part of a trusted name in the wellness industry.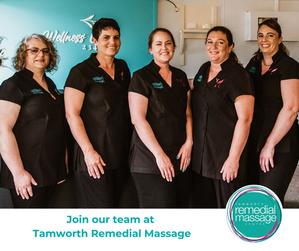 Why Choose TRMC?
Established Excellence: With over 16 years of service in the Tamworth community, TRMC is committed to raising industry standards and positively impacting our clients' well-being.

Holistic Approach: TRMC offers an array of massage therapies, body treatments, and floatation therapy to enhance both physical and mental health. Our goal is to provide ultimate relaxation and holistic wellness experiences.

Supportive Environment: At TRMC, we cultivate a nurturing atmosphere for our therapists, welcoming both fresh graduates and seasoned professionals. Here, you can grow and thrive in your career.

Flexible Work Hours: Recognising the importance of work-life balance, we offer flexible work hours. Our clinic operates from 9 am to 6 pm on weekdays and from 9 am to 2 pm on Saturdays.


Requirements: To be eligible for this position, candidates should meet the following criteria:
Hold a Certification (Cert. 4, Diploma, or Advanced Diploma) in Remedial Massage or be in the process of obtaining one.
Maintain membership with a recognised massage association.
Possess a current first aid certificate.
Have Public Liability and Professional Indemnity Insurance (assistance provided if necessary).
Personal and Professional Development: At TRMC, we are committed to supporting our therapists in their personal and professional growth. We believe in continuous learning and development to provide the best possible care to our valued clients.
How to Apply: If you are an enthusiastic, reliable, and client-focused therapist, we invite you to apply. Send your resume to reception@tamworthremedialmassage.com.au or reach out to Jacqui or Sophie at 02 6766 4544 for more details.
Unlock Your Potential at TRMC: Join our team at Tamworth Remedial Massage Centre and unlock your potential as a healer and wellness advocate. Together, we can make a significant difference in the lives of our clients and the Tamworth community.
Email resumes to: reception@tamworthremedialmassage.com.au